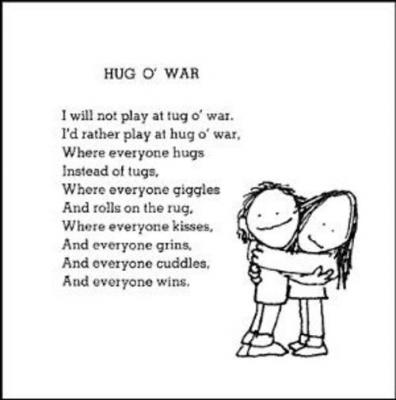 Shel Silverstein's poems are known by most American children and adults, because they are strange and funny. His books include drawings by him that go with the poems. Some of his poems are very long and hard to read, but others are easy to understand. These books have been popular for a long time, so you should be able to buy them at used bookstores. Click here for his site.
This poem is called "Lazy Jane," and it's from his most famous book, Where the Sidewalk Ends. Do you know the word "lazy?" It's an adjective that means "someone who doesn't want to do any work." I think the meaning will be very clear after you read this silly poem, which is about a really, REALLY lazy girl!

"Lazy Jane"
by Shel Silverstein
Lazy
lazy
lazy
lazy
lazy
lazy
Jane.
She
wants
a
drink
of
water
so
she
waits
and
waits
and
waits
and
waits
and
waits
for
it
to
rain.
Comentarios » Ir a formulario
isabelcota


Autor: cheap tiffany co jewelry
And with my laughter all things will be reduced to their proper size. I will laugh at my failures and they will vanish in clouds of new dreams; I will laugh at my successes and they will shrink to their true value. I will laugh at evil and it will die untasted; I will laugh at goodness and it will thrive and abound. Each day will be triumphant only when my smiles bring forth smiles from others and this l do in selfishness, for those on whom l flown are those who purchase not my goods. cheap tiffany co jewelry
Fecha: 28/04/2011 08:21.
---
Autor: Isabel
Thank you very very much for your post!!!!!!
Fecha: 28/04/2011 11:47.
---