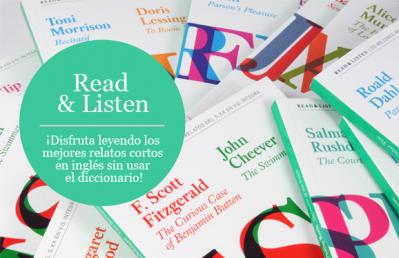 Read and Listen is a collection of six books of short stories published by Pons Idiomas. In each of the books we find two short stories by the best Anglo-Saxon writers. The collection has been designed for readers who wish to begin reading unabridged versions and each short story includes an extensive glossary on each page.
The stories are grouped by thematic and stylistic criteria. Thus, Defender of the Faith, by Philip Roth and The Courter, by Salman Rushdie, deal with conflicts caused by cultural and religious misunderstandings. The stories of Alice Munro and Margaret Atwood, both Canadians, share points of view and narrative style, like those of Toni Morrison and Doris Lessing, two Nobel laureates who have made the status of women the heart of their narrative. Roald Dahl and Edith Wharton provide the most ironic stories in the collection and James Baldwin and Jack London, the most brutal. Finally, F. Scott Fitzgerald and John Cheever delight us with two of the best and most popular short stories.
Those who want to practice listening, or just listen to the text while they read,only need to sit, relax and pay attention to a native speaker, since each book includes a CD with the audio version of the short stories.
Comentarios » Ir a formulario