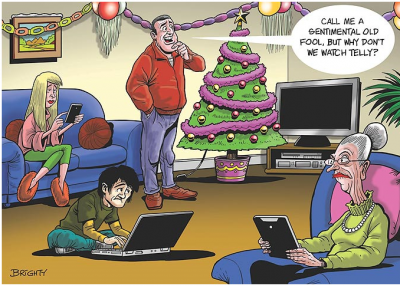 This cartoon by Brighty from The Sun is a comment on the the fact that watching TV is not as popular as it used to be, especially at Christmas time. A man suggests watching telly (ie, watching TV or watching the television), but the rest of his family are more interested in other types of screen: the grandmother is using an iPad, the son a laptop, and his wife (or daughter?) a mobile phone.
VOCABULARY CLOZE TEST ABOUT TV HERE.
TEXTS ABOUT REALITY SHOWS (+ AUDIO) HERE.
VIDEO-LISTENING COMPREHENSION: ADVERTISEMENTS HERE.
SPEAKING EXERCISES HERE.
BRITISH ENGLISH TELEVISION WORKSHEET 1.
BRITISH ENGLISH TELEVISION WORKSHEET 2.
EEOOII VALENCIA-INTERMEDIATE LEVEL II SPEAKING EXAM: MONOLOGUE 4