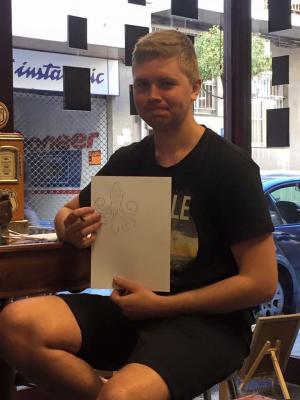 Zach, our assistant teacher, who is now back in the USA, has written a letter to all of us, students and teachers at IES Taboada Chivite. Here it is:
"Hello Chivite students and teachers!
I hope all is well and you guys studying and working hard! Summer is just around the corner so hold on for just a few more weeks! I just wanted to say hello and give you a little update on my life.
I will start with semana santa, when I went first to Valencia for four days, then to Granada for three days. Although I loved the beach in Valencia, Granada was SO beautiful and probably my favorite city that I saw in Spain (except Verin, of course).
A quick and funny story about when I was in Valencia: it was my first day in Valencia, and I went straight to the beach. I walked down the coastline for about 30 minutes, then decided to find the closest cercanias or metro. So I found the closest station, which was about a 20minute walk away, and started heading that way. After being held up by not one but TWO parades (remember it was semana santa), some random lady said "come mierda," to me! I believe her exact words were, "come mierda! estoy harta de esta puta gente!" We were the only people walking down the road so I know she was talking to me. So I hung my head and turned the corner….
So I got back to the USA on April 15th, and started working on the 17th. For those of you who don't remember, I work for a food bank called Gleaners Community Food Bank of Southeastern Michigan. Just so you understand how extensive Gleaners is, last year, we distributed over 40 million pounds (18,100,000 kg) of food to Southeastern Michigan. However, I have a different role in the organization. I run a community garden for Gleaners, and grow fresh/local produce for the community; last year, I grew about 4,000 pounds (1,800 kg). So I have been busy with that and my other responsibilities at Gleaners.
In other news, I bought a new car! So I have been spending lots of time taking back roads so I can be in my car for longer :) Other than that, I have not been doing much. I am living with my parents for one last summer, and they live in the country so it is hard to go out with friends. I have been filling my free time working out, playing basketball, hanging out with my puppies and reading the Harry Potter books.
En fin, I miss all of you and your beautiful country! Although I was only with you for about seven months, you all made me feel at home and amongst family, so thank you for that. I am sorry I did not get a chance to say goodbye to everyone, but it was a stressful and emotional week for me so I missed some people. My instagram and email are below, please add me or contact me with anything you need (I haven't been using my spanish, so I need to practice). See you for carnaval next year ;)"
Zach
Some photos HERE.
Next Thursday Zach is going to send us more photos, which I'll post on the blog.
If you want to contact him, ask me about his instagram and email.
THANK YOU VERY MUCH, ZACH. WE MISS YOU!!!! COME BACK SOON!!!!!!