Se muestran los artículos pertenecientes a Abril de 2013.
Animal Rights Group Seeks to Ban Horse-Drawn Carriages in NY
Listening Comprehension: Human Rights for Great Apes? HERE
Text about Animal Rights HERE.
EEOOII Valencia (Intermediate Level II) Speaking Exams: Monologue 3.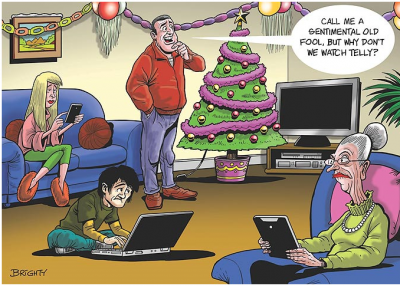 This cartoon by Brighty from The Sun is a comment on the the fact that watching TV is not as popular as it used to be, especially at Christmas time. A man suggests watching telly (ie, watching TV or watching the television), but the rest of his family are more interested in other types of screen: the grandmother is using an iPad, the son a laptop, and his wife (or daughter?) a mobile phone.
VOCABULARY CLOZE TEST ABOUT TV HERE.
TEXTS ABOUT REALITY SHOWS (+ AUDIO) HERE.
VIDEO-LISTENING COMPREHENSION: ADVERTISEMENTS HERE.
SPEAKING EXERCISES HERE.
BRITISH ENGLISH TELEVISION WORKSHEET 1.
BRITISH ENGLISH TELEVISION WORKSHEET 2.
EEOOII VALENCIA-INTERMEDIATE LEVEL II SPEAKING EXAM: MONOLOGUE 4
Vocabulary about EDUCATION - HERE
More vocabulary - HERE
Reading Comprehension - EDUCATION - HERE
WORKSHEET FOR THE VIDEO ABOVE - HERE
Debate: Should private schools be abolished? HERE
TALK ABOUT... SCHOOL DAYS - CLICK HERE
EEOOII VALENCIA INTERMEDIATE II SPEAKING EXAM: HERE (MONOLOGUE 5)
Watch the short clip above containing a lot of film clips.
(Dutch filmmaker Matthijs Vlot took Lionel Richie's 1984 hit Hello and mashed it up (mash up= hacer un mix de música) with short clips from a number of Hollywood films so that the words in the clips synch(sincronizar) perfectly with the song lyrics)
- How many clips are there?
- VIDEO DICTATION.(Write down everything you hear. If you need help, check the wordle above)
HERE (lyricstraining.com)you can watch and listen to Hello and do an exercise (choose the level of difficulty).
Key for the dictation HERE.
Starburst advertisement (inspired by Lionel Richie's Hello videoclip HERE )
- Watch the clip from the beginning to 00:24.
- Note down five objects which you think Ormie might use in order to get the cookies.
- Play until 03:02. How many of your ideas appeared in the video?
(Names of the objects in the video - WORDLE above)
- What happents next?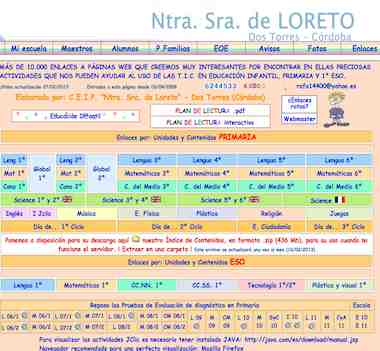 UNITS for Primary Education by C.E.I.P. "Ntra. Sra. de Loreto" - Dos Torres (Córdoba):
http://www.juntadeandalucia.es/averroes/loreto/sugerencias.html
Above you have part of a documentary about the Arctic and Antarctic.
- Note down everything you expect to see. You will get a point for each thing that appears on both your list and the clip.
What did you see in the clip which you didn't note down?
ARCTIC ANIMALS COLLAGE HERE :
Arctic fox, Arctic hare, Arctic tern (Spanish=charrán - kind of seagull), Dall sheep, Musk ox (Spanish=buey almizclero), Narwhal (Spanish=narval), Polar bear, Snowy owl, Walrus (Spanish=morsa), Wolverine (Spanish=glotón)
ANTARCTIC ANIMALS COLLAGE HERE:
Adelie penguin, Blackbrowed albatross, Elephant seal, Fulmar (Fulmarus// Fulmarus Glacialis - looks like a seagull, although they are not related), Humpback whale, Leopard seal, Orca (Killer whale), Rockhopper penguin, Emperor penguin