Se muestran los artículos pertenecientes a Febrero de 2018.
Click HERE to do an exercise about Love is All Around by Kate78.
Love is also in the air in..... Beauty and the Beast. Click HERE. Exercise by Francoisblake - HERE. Song translated into Galician language - HERE.
And of course.... In OT!!!!!! (Let's translate the winning song into English!). Click HERE, too. Tu Canción / Your Song - Video with subtitles in English HERE.
Vocabulary about love - BINGO CARDS
Words: ARROW - BALLOONS - BOW - CAKE - CARD - CHOCOLATES - CUPID - DATE - DOVES - FLOWERS - GIFT - HEART - HUG - KISS - LOVE - POEM - RINGS - ROSE - TEDDY BEAR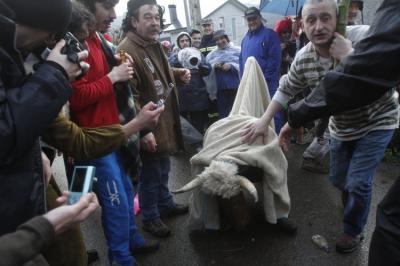 Click HERE to watch a video about this famous Carnival and then answer the following questions :
- Carnival takes place before................(Christian season of fasting)
-What are these days about?
- Peliqueiros run through the streets doing what?
- What is the origin of peliqueiros?
- Peliqueiros go from house to house doing what?
- What do townspeople burn?
- What does everybody arm themselves with during the "farrapada"?
- What is the Morena's job?
- What do you need for the next battle?
- Do we know much about the origins of Laza traditions?
.................................................................................
KEY
- Lent -Partying- Whipping people- 16th century tax collectors- Eating and drinking people's food- Hay and wood (to symbolize purification)- Muddy rags- To lift up women's skirts with his horns- Dirt and ants- Their origins are obscure and predate Christianity
Monologue EATING OUT - HERE
Monologue A PLACE TO LIVE - HERE
Monologue CHURCH/CIVIL WEDDINGS - HERE
Monologue TYPES OF JOBS - HERE
Monologue WAYS OF LEARNING - HERE
Monologue THE BEST CLIMATE - HERE
Monologue SECRETS - HERE
2 ESO A students are going to sing and draw the song "What can I do to make you love me?", by The Corrs (Project Celtic Countries, click HERE and HERE to find out about other songs which 2nd ESO students are going to learn and sing, and HERE - Vocabulary about the Celts and their world by Ana García, and HERE and HERE - Kahoot about the Celts) - The Corrs (number 16 on this list of best Celtic bands and artists)
Activity about the song - HERE.
Very soon on this blog!!!!!!!